As the end of 2016 gets closer, my list of books I'm anticipating in 2017 just keeps getting bigger. There are so many this might have to become some sort of miniseries on my blog. I am so excited to begin sharing what I'm excited about in 2017. So, in no particular order.
1.The Hate U Give by Angie Thomas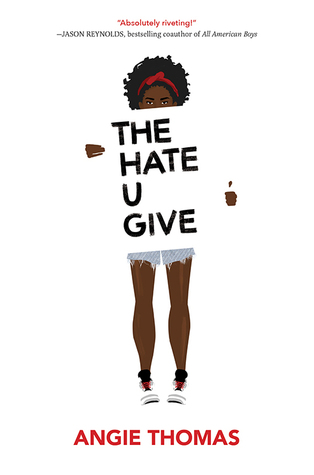 The Hate U Give is expected to be release in early, early March if my sources prove true. It's inspired by the Black Lives Matter movement which sounds to me like it's going to be an interesting book and probably an eye opener. I am so looking forward to reading something that focuses in on the issues that are going on in the world at the moment. It hones in on police violence which is something so common and it is such an problem. The sad thing is, it would've been brought to my attention if my dad didn't spend so much time researching it. I'm excited for this one, I think it promises to be an amazing book.
2. A Court Of Wings and Ruin by Sarah J. Maas
I am beyond excited for the final book in the ACOTAR trilogy. I am so curious to see how it's wrapped up. I have a somewhat interesting relationship with ACOTAR and ACOMAF, I don't particulary agree with all the morals and going ons in the books but I still really enjoy them. ACOWAR is supposed to be released in early May and I can only imagine all the hype it's going to get. I assume twitter will blow up. I hope bad things happen to Tamlin. I don't think I'm the only one who wants that. I'm excited, the way the acoronym spells out acoWAR kind of concerns me but excites me at the same time. If you're interested in my feelings on ACOTAR and ACOMAF, my reviews are
here
and
here.
3. King's Cage by Victoria Aveyard
Speaking of trilogies that I have an interesting relationship with. I don't know how I feel about the Red Queen series, I kind of hate it but it also isn't that bad. I find myself enjoying it from time to time. Never the less, we've been through a lot together. We've been through Red Queen where I was mildly confused but I also really liked it. Then there was Glass Sword and I wasn't just mildly confused, I was something beyond confused and I wasn't thrilled with it. So, I actually look forward to the final book and seeing how it's all wrapped up and I really hope I like it. I think it would be a shame if I didn't like it. I still have hope and I'm just trying to stay loyal to a series I had very high hopes for. If you're interested in my review of Glass Sword (I unfortunately, don't have a review for Red Queen yet) you can check it out
here.
4. Lord Of Shadows by Cassandra Clare
Cassandra Clare is problematic, I admit that much. But, her books are pretty damn good. Ever since Lady Midnight I have been dying for more Julian. That beautiful boy. I'm really excited to see where it goes, I think there are so many directions she could take it. I'm also nervous because the London Bridge is on the cover??? What??? Why??? That concerns me deeply. Anyway, I am so excited about it and you'll never shut me up once I've read it.
5. Our Dark Duet by Victoria Schwab
I just read This Savage Song and
loved
it. It was one of my favourite fantasy reads of the year. I have so many questions and theories. The cover is freaking beautiful also, I can't wait to have that on my shelf. I loved August and I couldn't get enough of him in This Savage Song. I really want to learn more about the monsters, they are so cool and I love it so much. I'll probably devour it the moment it's released.
I think I'll leave it at that for the moment and continue on next week. If I listed them all in this one post it would probably get just a tad bit lengthy and there are so many things I'm looking forward to, who knows how many posts it could take to get through my list.
What books are you looking forward to in 2017?