5 Stars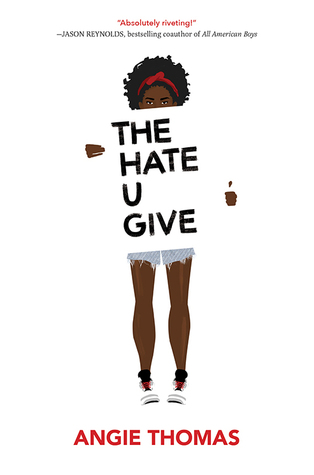 "Sometimes you can do everything right and things will still go wrong. The key is to never stop doing right."
I am thrilled I finally got to read this. It has so much hype and it deserves every slice of it. It is such an important book. It does a fantastic job of tackling such an important and relevant topic. I would absolutely recommend it to anyone and everyone. In my review, I won't be hyper critical because I just think it's so important we finally have this highly important own voices book and I think it's important that it gets the praise it deserves. However, if you're interested in a bit more of a critical review, there's a few interesting ones on Goodreads, you might just have to sift through.
I will just say quickly, do I think everything was perfect? No, I don't. But that's not why I'm giving it 5 stars. I'm giving it 5 stars because it's incredibly important and relevant and I think it brought up so many important things. This will definitely be one to leave you thinking.
The thing I love about THUG so much, is that it is a YA book dealing with a huge issue. It's important for people to be talking about the big issues and this is a fantastic way to get people educated and talking, particularly young people. I would love to see more YA authors try to tackle big issues like these because I think it's incredibly important to speak out using whatever medium you feel right using. I love that Angie Thomas has done that. You can tell it's a topic she feels strongly about and she has used her voice and perspective, to talk about it. I love it, I fully support it.
I loved Starr, I think she was really well written within her thought processes and whatnot and she felt like a really authentic character. You could tell it was an own voices author. She was strong and stubborn but still scared and had her flaws that she could acknowledge. I loved her family dynamic. I think it was so important to have such a gorgeous and supportive family. You all know by now that I adore some strong and loving families in YA. They were all really well written dimensional characters. They were really fleshy and I loved that.
I loved that THUG shuts down and breaks down the stereotypes that we are fed through the media. It gives us a unique perspective and certainly one that particularly news outlets aren't going to let us see. Which I think is incredibly important because you can't give credit to a lot of the media. THUG encourages you to have a mind of your own and gives you this perspective as food for thought.
I think it definitely has a shock factor. I think for some people, it's going to be hard to take in the fact that this book isn't just one big hyperbole. I'm lucky enough to have a father that talks constantly about the police shootings and the unfairness and ridiculousness of it, to know that this stuff is happening. But, I know for a lot of people The Hate U Give might be hard to swallow but I think it's important you do because only then can you help make a change.
I must say I've never read anything quite like this. Which I almost feel ashamed to admit. It was so different and important and fresh. I think it was brilliant. I feel more educated and aware after reading it which I think is what Thomas was aiming for. I would love to see more books like this one. Definitely read it if for some reason you haven't already, definitely support it, show it some love. I think it was great. Once again, I would love to see more books like this. I hope this becomes a classic in the years to come.