4 Stars
"Even in the Future the Story Begins with Once Upon a Time."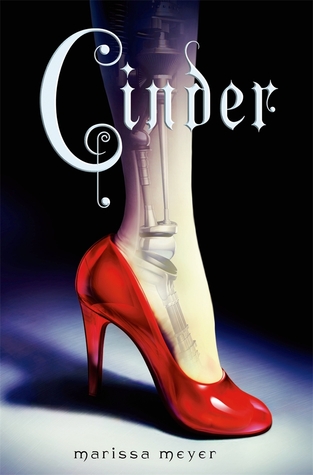 This was really cool. I really like the idea of retellings like this. It stayed on a similar kind of track but it also crazy different. I really liked it.
When I first started reading it, I was worried. It seemed very scifi-ish to me and scifi isn't always my favourite genre as you might already know if you've been keeping notes. So, I was slightly hesitant but I found myself really enjoying it. Purely because it's set in the future and Cinder is a cyborg and what not, I just wasn't sure I'd enjoy it. I chastise myself for it now.
I found it really easy to get into, the fact that it's based on Cinderella, a story I know like the back of my hand probably helped. I love books that I don't struggle to get into. I've read so many recently that I haven't immediately understood and it's always such a shame. This was wonderfully refreshing.
Despite the fact it's a retelling, it was still so different. Of course, there were so many things I can point out and say 'that's Cinderella' but there were so many factors that made it so unique and really made Cinder into it's own story. That's a certain skill I haven't yet acquired, accidental plagiarism seems to be my hidden talent. I haven't read many retellings despite how intrigued I am by them but this one makes me want to read even more.
I loved Prince Kai, I don't know how Cinder could resist him so well. I would have been jelly in his arms. He is so gorgeous and I really hope he continues to play a prominent role in the rest of the series. He almost reminds me of Prince Maxon from The Selection series but that might just be because they're both Princes.
I'm really excited to read the next book. I loved that the ending of this one wasn't so final and leaves you wanting more. I think this was good, very good. I really enjoyed it and it was nice and quick (possibly not as quick when you add the other books on top). I look forward to continuing the series.