3 Stars
Thank you to Bloomsbury Aus for sending me a copy.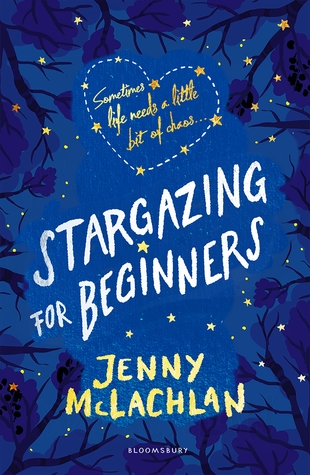 I really liked this. I thought it was super cute and a super quick and easy read. I was looking forward to this, the blurb was promising and the cover really caught my eye. It's fair to say, I was not disappointed.
Meg is a science nerd. She loves space and physics. I like space, hate physics. I'm a bit of a science nerd myself. I prefer biology and chemistry, though. Science has always been one of my favourites and I thoroughly enjoyed reading about someone who has such a passion for it. I just thought it was great and I even learnt a bit about it.
Meg's mum follows an oh-so important cause leaving Meg with baby sister Elsa. Elsa was adorable, by the way. This kind of reminded me of This Raging Light which follows a similar plot. We get to see Meg juggle the new responsibility of caring for Elsa and trying to keep on top of everything else too. Through this, we see Meg and Elsa form the sweetest bond and I was really pleased because I absolutely love a bit of sibling love.
I loved the biscuit club. It was gorgeous to watch these kids blossom and build a friendship. If I'm not mistaken, it seems as though it was inspired by The Breakfast Club which makes me very happy because I love 80's movies. I love those sorts of friendships and bonds. It was just really lovely and it also really made me crave biscuits.
My favourite thing about this book was definitely Annie. I was thrilled when she was first introduced. Annie has cerebral palsy, it affects her legs and she moves around on crutches or her wheelchair. The reason I was so excited to see this is because my cousin has cerebral palsy and much like Annie, it affects his legs. He's been on crutches his whole life but will eventually have to move to a chair. He's quite determined to stay on his crutches as long as possible though. I've never seen it represented before and I'm so happy. The only reason I'm so familiar with it is because of my cousin, he was about 16 when I was born and that's just all I've ever known. I once asked my mum when his leg would be okay because being a kid, I associated crutches with broken legs so I just assumed he had a really badly broken leg and she explained it to me. I told her about Annie and she was pretty pleased about it too. And, it's even nicer to see that Annie has a personality, she has an attitude, she's funny. Annie isn't her disability and I think some authors struggle to set their characters apart from that. I really appreciated Annie.
I really enjoyed it. It was a sweet little read and I had a lot of giggles while reading it. Cute, fun, what more could you want? It didn't have a lot of real substance if you get what I mean but it was really nice and lovely and enjoyable.