5 Stars
"There's a Japanese phrase that I like: koi no yokan. It doesn't mean love at first sight. It's closer to love at second sight. It's the feeling when you meet someone that you're going to fall in love with them. Maybe you don't love them right away, but it's inevitable that you will."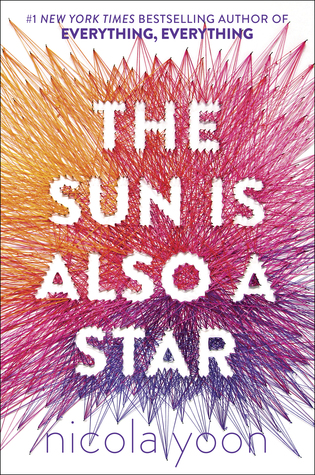 Anyone who has ever read my blog will know, I am a down right sucker for contemporary. This was no exception to the rule. It was everything I could have wanted it to be and now my heart hurts.
I didn't think it could be as magical and beautiful as Everything, Everything but it absolutely was. Nicola Yoon writes gorgeous books, that is my conclusion. That is what I've drawn from this reading experience. It was wonderful, I could feel Natasha and Daniel in my soul as though they were both a part of me.
I like to say I don't like insta-love because I know a lot of people don't like insta-love and I sometimes seem to adapt other peoples opinions for no apparent reason. But, I'm going to go ahead and say it. I like insta-love. It's romantic. I'm a sucker for romance. This book was absolutely, no doubt about it insta-love. So, if that isn't your jam, this probably isn't the book for you. However, this is hella my jam so I loved it.
I love Daniel, he and I are both very much dreamers. I love his spirit and the way he thinks of things and the way he feels everything. I felt a strong connection with him as far as relatability goes. I also adored Natasha for her determination even when it seemed like the whole world was against her. I appreciate that she truly never accepted defeat until she really had to.
I love that the book didn't just focus on the day Natasha and Daniel had spent together, it also branched out to the people around them and it gave you a sense of the fact that literally everyone has something going on. I loved all the back stories and all the seemingly small people they encountered on the way that became bigger people. I adored the way it made a single day seem so big and full of life.
There were so many things I loved about this, practically too many to name. It's diverse, fluffy, heartfelt, beautifully written and the list goes on. She's done it again.