With July almost right up our bums, I thought it was time to do some July new releases. So, what should we be expecting to see in July? You might ask well, that's what I'll tell you.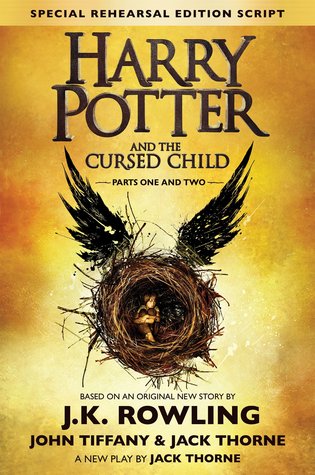 Firstly, the one I'm sure we were all waiting for *drumroll please* Harry Potter and the Cursed Child is released on the 31st. It almost makes up for the fact that I am so far away from the play itself. I am beyond excited for this one although I don't know if I'm actually mentally prepared for it just yet. I can't wait to get my hands on it regardless! The story follows Harrys youngest son Albus, I can only hope Albus is just as courageous as his mother and just as selfless as his father. I know this is going to exceed my expectations, I can feel a stellar review already and one that will certainly write itself. Mark it in your diaries boys and girls!
Next, a contemporary story and aren't we all suckers for a bit of contemporary (maybe that's just me). Signs of You by Emily France is being released on the 19th. The story follows a girl who's lost her mother, she has a small support group who have stuck by her. Riley thinks she spots her mum at the shop and worries she's suffering post traumatic stress. She alerts her friends of this who all tell her they've had similar experiences, aside from Noah whose a sceptic. When Noah goes missing Riley fears she's lost another loved one. As they hunt for Noah, the group find clues about the afterlife all the while Riley struggles with her feelings for the two boys in her life. This sounds pretty interesting and it's definitely something I'd like to pick up. Looking forward to it.
Now, we have A World Without You by Beth Revis which is being released on the 19th. A World Without You is about a boy who believes he can travel time, Bo is convinced his school is a school for people with superpowers. When Bo falls in love with Sofia who is deeply depressed and has the superpower of invisibilty, Sofia helps Bo to open up. In turn Bo gives her comfort. This, however, isn't enough to pull her out of her depression. Sofia commits suicide but Bo is convinced she's not dead, he believes she just stuck in time, that perhaps he left her in the past. The book follows Bo as he tries to save Sofia. This book sounds great, I haven't read anything from Beth Revis yet but from what I've been told shes an awesome author and I'm excited for this to hopefully be my first book of hers. It sounds very different and intriguing, I can't wait.
So, theres a quick look at what we have to look forward to in July. I hope you liked it and if you did let me know and I might do some more things like this in the future.
Tell me what you're looking forward to in July down in the comments! :)