4 Stars
"Bending his head, Kai presses his lips to her knuckles. The plating had no nerve endings, and yet the touch sent a tingle of electricity along her arm."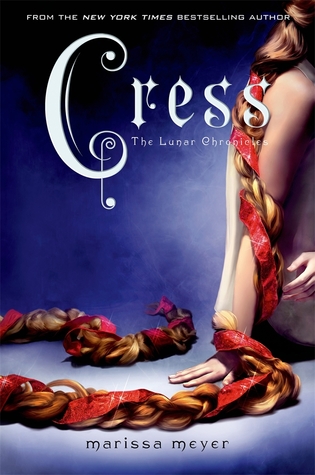 Cress is the third book in the Lunar Chronicles. The series takes fairy tale retellings and puts a scifi twist on them. Each book introduces a new character and follows the plot of a different fairy tale. Cress is the third of four books, following from Scarlet.
God, I loved this. This is quickly becoming one of my favourite series'. Cress might be my favourite one yet, it was really great.
Okay, I loved Cress. She reminds me of myself a bit. She is such a strong girl. She is so thoughtful and just wonderful. One of my favourite things about the Lunar Chronicles is the powerful women. I love that is really is about the girls and the guys are just along for the ride. It's very empowering. All the girls are so strong and independent. I love how Cinder takes control and Cress tries her hardest all the time. It's great. I love it.
Cress was jam packed with action. But not an overwhelming amount of action. Just enough. I think Marissa Meyer does a great job of packing her books with action and just the right amount of romance on the side. That is one woman who knows what I'm about. I love the scifi factor. I didn't think I was a fan of scifi until I started this series. Turns out I love scifi. Cress has set up a fantastic start for Winter, the final book. I think it's really important for predecessors of the final book in a series to do that. They need to build up to an electric last book. They need to create excitement and drama. Cress has done that fantastically and I am thrilled about it.
Honestly, I don't have much else to say. I'm basically holding out from giving this a 5 star rating because I want to save it just in the case that the final book Winter blows me out of the water. And, I'm predicting it will. I'm excited. I absolutely love The Lunar Chronicles so far and hopefully I'll be able to get my hands on Winter soon. It keeps on getting better and it's shaping up to be one hell of a series.