4 stars

"I suppose is was impossible to ignore someone you've loved that much"

I feel as though I'm a bit late on this book but better late than never, right? First off I must say, I really liked this book. I couldn't put it down and I'm itching to begin reading The Elite but I had to get this done while everything was still fresh in my head.

I was a little iffy about this one because after buying the boxset on impulse I read some iffy reviews about it but I really liked it. I'm glad I bought it
3.5 stars
"I suppose is was impossible to ignore someone you've loved that much"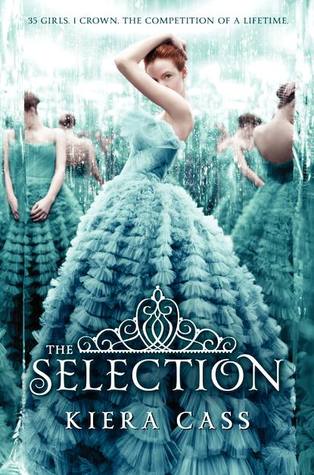 I feel as though I'm a bit late on this book but better late than never, right? First off I must say, I really liked this book. I couldn't put it down and I'm itching to begin reading The Elite but I had to get this done while everything was still fresh in my head.
I was a little iffy about this one because after buying the boxset on impulse I read some iffy reviews about it but I liked it. I'm glad I bought it now and I am telling everyone, if you like young adult/romancy books chances are you'll like this but don't take my word for it.
Warning this book was super mushy but I love mush and if you love mush too, you'll probably enjoy it. It's got just the right amount of cutesy stuff along with the real stuff. You're either going to fall in love with Prince Maxon or Aspen but there's just enough of both to satisfy your needs. I personally love Prince Maxon.
I'm struggling to thing critically of this book (I've never been much of a critical reader) but one really nit picky type thing that irritates me is the name America Singer. Get it? She's a singer who lives in (previously called) America. Its so cheesy and it just gets me but I try to at least block out the surname because I don't mind America by it's self. Other than that, I can't think of anything else that really got me mad about this book.
I love America's stubborn nature, it makes the book amusing and relatable for me. I think her attitude is refreshing especially for someone who may well be a Princess. Although, stubbornness is a fairly common trait in most YA protagonists but I still like it. Although America can get frustrating at some points in the book, I kind of did want to scream at her sometimes.
I would definitely say its a cross between The Hunger Games and The Bachelor. Both of which I love (The Bachelor is definitely a guilty pleasure of mine), it's a bit of an odd combination but somehow it works. It's definitely more The Bachelor than The Hunger Games which I use loosely as a comparison, purely the whole lottery type aspect reminds me of the reaping and the castes remind my of the districts.
The Selection was a quick read which actually got me out of a mini reading slump. I enjoyed it a lot and I like the characters, it combines a lot of features I really like in books. Although, while this is right up my alley, you're probably either going to really like this or really not. I guess it depends on what you're into and this review is mostly about some of my favourite points. It's a fun read, a bit quirky, a bit of mush. I'm aware it's less informative and more just my little thoughts but regardless I think it's important to share thoughts.
Have you read the Selection? Leave me some of your thoughts, I love to hear them!